Fabricating Debris & Scratched Glass
We have spent a great deal of time educating ourselves on the continuing fabricating debris issues that surround the glass industry. We will make all reasonable attempts to protect your investment from the detrimental effects of this manufacturing defect.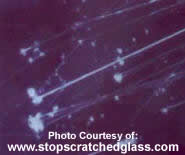 Fabricating debris is the leading cause of scratches (during cleaning) on certain types of windows. If you have heat strengthened (tempered) glass in your home, are ready to purchase new windows or you are involved in the building industry, please read on.
There are several reputable manufacturers that have quality control measures in place to reduce microscopic debris (glass fines) to an absolute minimum. These windows will not scratch when cleaned with standard window cleaning tools. Demand that your builder or window supplier provides you with glass of this quality. Anything less is defective glass!
We believe that the resolution to this problem begins with educating homeowners and builders. The Glass Association of North America (GANA) suggests that thousands of window cleaning companies use millions of gallons of solvents each year to remove construction debris from new windows. In the same breath they say that window cleaners need to employ high tech methods for cleaning this new high tech architectural glass on the market.
An environmentally damaging chemical which also deteriorates window seals is not high tech. With all the talk of going "green" these days, I would have expected a different response from the nation's largest glass association. The problem is quality control at some manufacturing plants. Why is it that most manufacturers produce quality glass (that won't scratch when window scrapers are employed) and yet others continually distribute windows that end up in the landfills costing consumers millions in replacement charges every year?
If this issue affects you directly or if you just want to get involved, I urge you to begin reading the tempered glass section of the IWCA's website. Then voice your opinion to us, the IWCA and GANA.
our services
Resources
Contact Us
Myrtle Beach Window Cleaning
"The Clear Choice"
Proudly Serving Myrtle Beach, North Myrtle Beach, Surfside Beach, Murrells Inlet, Pawleys Island, Horry County
Myrtle Beach, SC 29577
(843) 400-0323